Embraer E170 Flight Simulator Built by FlightSafety for S7 Airlines Receives EASA Qualification
NEW YORK (November 8, 2018) – FlightSafety International announces that the Embraer E-170 aircraft simulator it built for S7 Airlines of Russia has received EASA qualification. This European Aviation Safety Agency qualification includes Issue 2 upset prevention and recovery training capability.
"The EASA Issue 2 qualification of the Embraer E170 simulator built for S7 Airlines demonstrates FlightSafety's ability and commitment to meet the new standards set by the agency," said Scott Goodwin, Vice President Simulation. "The upset prevention and recovery training capability incorporated into this new advanced technology simulator further increases the value of the simulator and will help to enhance safety."
"The delivery of 17 Embraer 170 aircraft to S7 Airlines was completed in June. With the new full flight simulator, designed by our trusted partner FlightSafety International, our captains and first officers are able to take initial and recurrent training  at the largest aviation training facility in Eastern Europe – S7 Training. It's advanced visualization system enables our experienced instructors to recreate all possible flight conditions and teach the necessary skills," said Vladimir Obyedkov, CEO of S7 Airlines.
The new FlightSafety FS1000 simulator is installed at the S7 training facility in the Domodedovo region. The advanced technology systems incorporated into the simulator are designed to enhance performance, increase availability, and lower life cycle costs compared to previous-generation devices. They include FlightSafety's electric motion control and cueing, and a new multi-function Instructor Operating Station that features an intuitive interface, scalable graphics, and large multi-touch displays.
FlightSafety has delivered more than 140 simulators for commercial aircraft to date. They include a variety of devices for aircraft manufactured by Airbus, Boeing, Bombardier and Embraer and are utilized by airlines around the world.
S7 Airlines is Russia's second largest carrier with a fleet of 91 aircraft. In its winter schedule the airline operates flights to some 181 destinations in 26 countries throughout Russia, Europe, the Middle East and Asia, with an extensive network in the Commonwealth of Independent States. S7 Airlines is a member of the oneworld® global aviation alliance. The airline has a wide internal route network, created on the basis of air transport hubs in Moscow (Domodedovo) and Novosibirsk (Tolmachevo). S7 Airlines also performs regular flights to countries of the Commonwealth of Independent States (CIS), Europe, the Near East, Southeast Asia and countries of the Asia-Pacific region.
FlightSafety International is the world's premier professional aviation training company and supplier of flight simulators, visual systems and displays to commercial, government and military organizations. The company provides more than 1.4 million hours of training each year to pilots, technicians and other aviation professionals from 167 countries and independent territories. FlightSafety operates the world's largest fleet of advanced full-flight simulators at Learning Centers and training locations in the United States, Australia, Brazil, Canada, China, France, Hong Kong, India, Japan, the Netherlands, Norway, South Africa and the United Kingdom.
Download a high-resolution file. For media use only.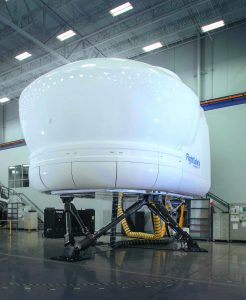 FlightSafety International Simulator