FlightSafety Builds the First Simulator for the Embraer 190-E2 and Expands its Learning Center at the Paris-Le Bourget Airport
NEW YORK (February 28, 2018) –FlightSafety International announces that it is building the first simulator for the new Embraer 190-E2 aircraft. The Learning Center at the Paris-Le Bourget airport in France is being expanded to accommodate the simulator.
"We are pleased to announce the design and manufacture of our first simulator for the new Embraer 190-E2 aircraft and the expansion of our Paris-Le Bourget Learning Center," said Bruce Whitman, Chairman, President & CEO.  "FlightSafety and Embraer are committed to provide operators of this new aircraft with the high quality training resources they require in a conveniently located, world-class facility."
The new FlightSafety FS1000 simulator features the next generation visual system and CrewView Collimated glass mirror display. "Those flying the simulator will experience and appreciate the unprecedented clarity and crispness provided by the high contrast glass collimating display system. The dynamic realism of the detailed visual scenes, with outstanding day, night, and low visibility presentation, and enhanced weather effects are unmatched," said Ed Koharik, General Manager, Visual Systems.
The expansion of the Learning Center includes a new 1,145 square meter (12,346 sq. ft.) building adjacent to the current facility. Construction is scheduled to be completed this summer.
The new facility will accommodate the Embraer 190-E2 simulators and two others which are to be determined.  The building will also feature seven classrooms, three rooms equipped with advanced training devices, six briefing rooms and other common use areas.
The Paris-Le Bourget Learning Center now offers a wide variety of courses for operators of the Dassault Falcon 10/100, Falcon 20, Falcon 2000, 2000EX, 2000EX EASy/DX/LX/S and LXS, Falcon 50, 50EX, Falcon 900/ 900B/900C, 900EX EASy/DX/LX, Falcon 7X, and Falcon 8X  aircraft. The Center also provides training for the Embraer E-Jets 170/175/190/195, ERJ 135/140/145, Legacy 600, 650 and Lineage 1000. Courses for maintenance technicians, Pratt & Whitney Canada engines, cabin attendant and crew emergency training are also offered at the Center.
FlightSafety International is the world's premier professional aviation training company and supplier of flight simulators, visual systems and displays to commercial, government and military organizations. The company provides more than 1.4 million hours of training each year to pilots, technicians and other aviation professionals from 167 countries and independent territories. FlightSafety operates the world's largest fleet of advanced full-flight simulators at Learning Centers and training locations in the United States, Australia, Brazil, Canada, China, France, Japan, the Netherlands, Norway, South Africa and the United Kingdom.
Download a high-resolution file. For media use only.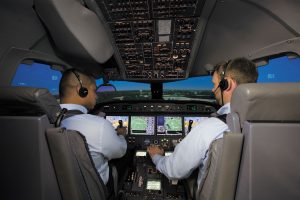 Embraer E2 Simulator