FlightSafety International Expands PC-24 Training Capacity in Europe
COLUMBUS, OH, September 6, 2023 – FlightSafety International, in partnership with Pilatus Aircraft Ltd, announced today they will deploy a fourth full-flight simulator (FFS) for the Pilatus PC-24 Super Versatile Jet to meet the growing demand for training in Europe.
This simulator will be the second PC-24 simulator in the FlightSafety Paris Le Bourget Learning Center.  The new simulator is planned to be ready for training during the second quarter of 2024. The other two simulators for this specific aircraft are located in the FlightSafety Dallas-Fort Worth North Learning Center.
"FlightSafety is pleased to offer expanded capacity to meet the demand in Europe for the growing fleet of PC-24 operators," said Nate Speiser, Executive Vice President of FlightSafety Sales and Marketing.  "FlightSafety has trained over 1,000 PC-24 pilots since introducing training for this aircraft in 2013 and we are excited to continue to advance our partnership with Pilatus for this program."
"Pilatus's continuous work and close collaboration with FlightSafety International has led to a consolidated solid partnership and professional training of PC-24 pilots. We are pleased to welcome the fourth PC-24 flight simulator in the PC-24 community. A great opportunity to fulfill future training demands while improving availability for all our current customers and operators," commented Ignaz Gretener, VP General Aviation.
The PC-24 Super Versatile Jet is a uniquely designed aircraft providing a highly desirable set of comforts and benefits to its passengers and operators. The PC-24 offers a larger passenger cabin with a continuous flat floor and a pressurized baggage compartment. Its excellent short-field performance combined with its capability to operate from both paved and unpaved runways make the PC-24 a unique business jet capable of exploring locations and airfields not easily accessible by other similar class aircraft.
About Pilatus
Founded in 1939, Pilatus Aircraft Ltd develops and produces the world's most unique aircraft: from the legendary PC-12, the best-selling single-engine turboprop in its class, to the PC-7 MKX and PC-21 and associated simulators, the market-leading systems for pilot training. The brand-new PC-24 is the world's first-ever business jet designed for use on short unprepared runways. The Pilatus team consists of over 2,500 exceptional employees who make the company, which is domiciled in Stans, one of the largest and most innovative employers in Central Switzerland. The Pilatus Group also includes independent subsidiaries in the USA and Australia. Pilatus provides training for over 140 apprentices in various professions – job training for young people has always been a very high priority. Pilatus remains committed to Switzerland as a hub for work and new ideas, and acts in a sustainable and environmentally conscious manner at all times.
About FlightSafety International
FlightSafety International is the world's premier professional aviation training company and supplier of flight simulators, visual systems and displays to commercial, government and military organizations. The company provides training for pilots, technicians and other aviation professionals from 167 countries and independent territories. FlightSafety operates the world's largest fleet of advanced full-flight simulators at Learning Centers and training locations in the United States, Canada, France, the United Kingdom and Singapore. For more details, please visit flightsafety.com.
Download a high-resolution file. For media use only.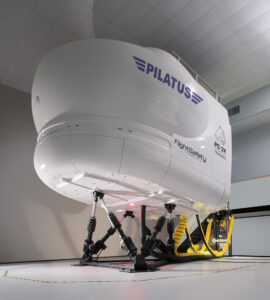 FlightSafety Pilatus PC-24 Simulator