FlightSafety International Promotes Scott Goodwin to Vice President, Simulation
NEW YORK (October 18, 2017) – FlightSafety International announces that Scott Goodwin has been promoted to Vice President, Simulation.
"We are pleased to promote Scott to Vice President, Simulation," said Ray Johns, Executive Vice President. "Scott has the experience, leadership abilities and business skills required to further strengthen FlightSafety's position as a world leader in the design, manufacture and support of simulation products. He will build upon our proven success and continue to provide our Teammates in Broken Arrow with the outstanding leadership and support they deserve."
Scott has overall responsibility for the design, manufacture and support of FlightSafety's full flight simulators and other advanced technology training devices. They are used throughout FlightSafety's worldwide network of Learning Centers and by government and military agencies and commercial aircraft operators around the world.
He joined FlightSafety in 2014 as Deputy Director, Special Projects, and was promoted to Executive Director the following year. Scott most recently served as General Manager, Simulation. In addition to overseeing daily operations and conducting long range planning, Scott has been at the forefront of the company's product and service innovation efforts. He also contributed to an organizational transformation effort that significantly increased efficiency and continues to enhance quality.
Scott served in the United States Air Force for over 30 years and retired with the rank of Brigadier General in 2013. He was the Director of Operations for Air Mobility Command and oversaw the training and evaluation of more than 20,000 flight crew personnel operating 1,300 aircraft around the world. He also served in Washington, DC on the Joint Staff and as one of the Team Leads for the National Military Command Center. Scott is a highly experienced pilot with over 3,500 hours in a wide variety of aircraft.
He earned a Bachelor of Science degree in Aeronautical Engineering from the United States Air Force Academy, a Master of Science in Mechanical and Aerospace Engineering from Princeton University as a Guggenheim Fellow, and a Master of Arts in National Security and Strategic Studies from the U.S. Naval War College. Scott was also a Senior Executive Fellow at the John F. Kennedy School of Government at Harvard University.
FlightSafety International is the world's premier professional aviation training company and supplier of flight simulators, visual systems and displays to commercial, government and military organizations. The company provides more than 1.4 million hours of training each year to pilots, technicians and other aviation professionals from 167 countries and independent territories. FlightSafety operates the world's largest fleet of advanced full-flight simulators at Learning Centers and training locations in the United States, Australia, Brazil, Canada, China, France, Japan, the Netherlands, Norway, South Africa and the United Kingdom.
Download a high-resolution file. For media use only.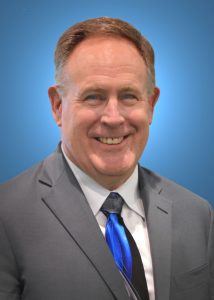 Scott Goodwin, Vice President, Simulation