FlightSafety partners with Dronamics for drone pilot training
COLUMBUS, OH and LONDON, ENGLAND (May 23, 2022) – FlightSafety International, the premier professional aviation training company, and Dronamics, developers of unmanned aerial systems for shipping commercial and special cargo applications, will sign an agreement at the upcoming European Business Aviation Convention & Exhibition (EBACE), May 23-25 in Geneva.
With this agreement, FlightSafety will develop and deliver a state-of-the art training for Dronamics pilots. Future training development opportunities also exists for Dronamics maintenance and dispatch personnel.
"We're well known in the market for our long-standing OEM relationships," said Nate Speiser, FlightSafety's EVP of Sales & Marketing. "Being on the ground floor of the unmanned flight industry with Dronamics is proof of our focus on the future as well. Our mission is to ensure the most prepared pilots in the industry – no matter the type of aircraft."
Dronamics is an unmanned cargo airline started by two brothers, Svilen and Konstantin Rangelov, in 2014. DHL and Hellmann have previously announced partnerships with Dronamics on same-day cargo delivery middle mile service throughout Europe and Australia. Dronamics' near future plans involve growing their operation to become the first long-range cargo drone airline.
"For us at Dronamics, safety is the foundation of successful operations. This is why we are partnering with FlightSafety International to offer ongoing support in state-of-the-art training for our pilots and engineers," said Sergio Oliveira e Silva, COO, Dronamics. "As we accelerate toward our first commercial flights later this year, FlightSafety will ensure our remote pilots are always trained to maintain the highest standards in operational excellence and safety. Our joint future plans include the co-development of an academy that will ensure we are well placed to meet the resourcing requirements of running the first UAV long-range cargo airline."
About FlightSafety International
FlightSafety International is the world's premier professional aviation training company and supplier of flight simulators, visual systems and displays to commercial, government and military organizations. The company provides training for pilots, technicians and other aviation professionals from 167 countries and independent territories. FlightSafety operates the world's largest fleet of advanced full-flight simulators at Learning Centers and training locations in the United States, Canada, France and the United Kingdom. For more details, please visit flightsafety.com.
About Dronamics
Dronamics is a fast-growing manufacturer and operator of long-range UAVs, on a mission to transform the mobility of goods worldwide. Its proprietary Black Swan aircraft is built for cargo, carrying 350 kg at a distance of up to 2,500 km, while powered by clean and energy efficient technologies. It can land anywhere, including unpaved strips, opening new trade routes and opportunities for remote communities. Operating at up to 80% lower cost than any aircraft in existence, the Black Swan enables same-day shipping over very long distances for a variety of industries, from pharma to food, from fashion to spare parts. DRONAMICS is IATA's first Strategic Partner for drones worldwide and has been named by the European Commission as a Top 10 EU-Africa startup.
Download a high-resolution file. For media use only.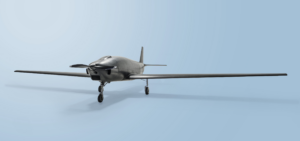 Dronamics & FSI Training Partnership