FlightSafety selected by Breeze for A220 and E190 training
Customer focus leading to Commercial Airline market success
COLUMBUS, OH (October 26, 2021) – FlightSafety International has been selected by Breeze Airways to provide Airbus A220 and Embraer E190 Full Flight Simulators (FFS) and Flight Training Devices (FTD).
As part of a long-term agreement, FlightSafety will also maintain the operation of the devices and other crew training equipment for Breeze. FlightSafety is increasing its focus on training and equipment for the Commercial Airline Training market. The company is a leading provider of Airbus A220 training technology and has delivered nearly 40 E-jet Full Flight Simulators.
Breeze Airways is the new airline founded by veteran industry entrepreneur David Neeleman that started flight operations in 2021. The airline is currently flying to 16 underserved destinations in the U.S. and is intent on blending technology with kindness to provide a 'Seriously Nice' customer experience.
The initial simulators, engineered and manufactured by FlightSafety in Broken Arrow, Oklahoma, will be delivered to Breeze Training Academy in 2022. The simulators will incorporate industry-leading technologies for highest fidelity and reliability, and the A220 FFS and FTD will utilize Airbus' Standard 1.0 software.
"We are excited and proud to partner with Breeze," said FlightSafety President and CEO Brad Thress. "We're committed to providing the best training and technology support to the world's commercial airlines, and believe that our partnership with Breeze solidifies that."
"Breeze is diligent in selecting partners for long-term success, and FlightSafety's vision and customer service made this an easy decision," said David Neeleman, Breeze Airways' Chairman and CEO.
FlightSafety has improved synergies across the company, optimizing its manufacturing footprint and streamlining its build process. Customers are recognizing the benefits from FlightSafety's continued focus on advancing technology, improving supply chain partnerships, and providing comprehensive support.
For more information on the FlightSafety | Breeze partnership, or FlightSafety's Commercial Airline Training programs, please contact sales@flightsafety.com.
About FlightSafety International
FlightSafety International is the world's premier professional aviation training company and supplier of flight simulators, visual systems and displays to commercial, government and military organizations. The company provides training for pilots, technicians and other aviation professionals from 167 countries and independent territories. FlightSafety operates the world's largest fleet of advanced full-flight simulators at Learning Centers and training locations in the United States, Canada, France and the United Kingdom. For more details, please visit flightsafety.com.
About Breeze Airways
Breeze currently operates flights in 16 cities across 13 states. Founded by aviation entrepreneur David Neeleman, Breeze Airways is a new low fare carrier offering nonstop flights between smaller secondary airports, bypassing hubs for shorter travel times. Breeze's team is a group of aviation experts and fanatics, working day and night to build a Seriously Nice™ airline. Breeze's mission is to make the world of travel simple, affordable and convenient, using technology, ingenuity and kindness to improve the travel experience. For those interested in applying for employment with Breeze Airways, please visit https://boards.greenhouse.io/breezeairways.
Download a high-resolution file. For media use only.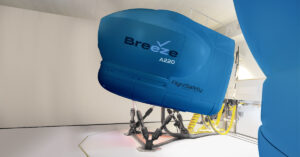 Photo credit: FlightSafety International