FlightSafety Academy Introduces Growth and Achievement Preparation Program for New Students
NEW YORK (August 14, 2017) – FlightSafety International announces a new Integrated Growth and Achievement Preparation Program for students entering the FlightSafety Academy in Vero Beach, Florida.
"Our new Integrated Growth and Achievement Preparation Program is designed to be taken by FlightSafety Academy students just prior to the start of their formal pilot training," said Nancy Ritter, Manager of FlightSafety Academy. "This unique new initiative will help to prepare those entering the Academy for the rigors of training and the disciplines required for a career as a professional pilot."
The program is comprised of a coordinated series of modules. They include ground school pre-study; STEM review; managing training deadlines; interacting with instructors; cockpit technology;  health and wellness; and a variety of other important topics. Students will also benefit from seminars conducted by industry experts.
"Our goal is to provide the knowledge and skills needed to excel at the Academy and to be fully prepared to become excellent  First Officers and Captains. This pre-study program enhancement clearly demonstrates our commitment to provide the highest quality training and reinforces our position as a world leader in ab initio training," added Nancy Ritter.
FlightSafety Academy offers a wide variety of programs tailored to the specific needs of domestic and international airlines, government and military agencies, other flight training organizations, and individuals with no prior flight experience. The 160 professionals, including more than 70 highly qualified and experienced Certified Flight Instructors who work at the Academy, help to ensure that graduates are prepared to fly safely, and operate an aircraft efficiently and effectively.
The Academy's fleet of close to 90 aircraft includes 26 new Piper Warriors, as well as Arrow and Seminole aircraft equipped with Garmin G500/650 series avionics. The aircraft are maintained to the highest standards and exceed FAA maintenance inspection requirements. Students fly out of an ATC controlled airport with instrument approaches under an airline style dispatch operation.
The 30-acre campus is equipped with a full array of training tools including multi-media classrooms, flight training devices, and an Air Traffic Control communications lab. The Academy has on-site accommodations for 300, a comprehensive library, pilot shop, and other amenities typical of a university.
FlightSafety International is the world's premier professional aviation training company and supplier of flight simulators, visual systems and displays to commercial, government and military organizations. The company provides more than 1.4 million hours of training each year to pilots, technicians and other aviation professionals from 167 countries and independent territories. FlightSafety operates the world's largest fleet of advanced full-flight simulators at Learning Centers and training locations in the United States, Australia, Brazil, Canada, China, France, Japan, the Netherlands, Norway, South Africa and the United Kingdom.
Download a high-resolution file. For media use only.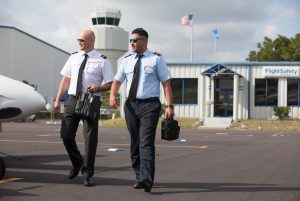 FlightSafety Academy