FlightSafety International is Building a New Airbus A320 Full Flight Simulator for the Aviation Safety and Training Center in Singapore
NEW YORK (August 23, 2018) – FlightSafety International and HAITE Aviation Safety and Training Pte. Ltd. have signed an agreement for the purchase of a full flight simulator for the Airbus A320.  The simulator will replicate both the CEO and NEO versions of the A320 aircraft. The FlightSafety FS1000 simulator will be qualified to Level D and enter service at the Aviation Safety and Training Center in Singapore in January 2019.
"We are pleased that the HAITE Aviation Safety and Training Center in Singapore will acquire an Airbus A320 full flight simulator from FlightSafety. This agreement demonstrates our proven ability to consistently provide the highest quality training equipment and the exceptional value our Customers expect and deserve," said Ray Johns, Executive Vice President.
"Selecting FlightSafety to build a new simulator to be installed at our Aviation Safety and Training Center in Singapore was an easy decision," said Ben Lam General Manager, Haite Aviation Training Division. "FlightSafety's advanced technology flight simulators and reputation for providing outstanding service and support made it the best choice to support our growing needs."
The simulator will feature FlightSafety's advanced CrewView™ glass mirror display.  CrewView delivers unprecedented simulation training fidelity. The displays offer the widest fields of view and greatest level of realism with superior optical performance, and sharper image clarity. The simulators also feature a new instructor operating station that offers an intuitive interface, scalable graphics, and large multi touch displays.
The Aviation Safety and Training Center in Singapore is owned by the HAITE Group based in Chengdu, Sichuan Province, China. The new 21,000 square meter full service facility is currently equipped with two full flight simulators and integrated procedures trainers for Airbus and Boeing aircraft. Five additional simulators will be added in the future. The HAITE Group also owns and operates aviation training centers in Kunming and Tianjin, and provides avionics and aircraft engine repair and overhaul services.
FlightSafety International is the world's premier professional aviation training company and supplier of flight simulators, visual systems and displays to commercial, government and military organizations. Over 2,000 highly qualified instructors provide more than 1.4 million hours of training each year to pilots, technicians and other aviation professionals from 167 countries and independent territories. FlightSafety operates the world's largest fleet of advanced full-flight simulators at Learning Centers and training locations in the United States, Australia, Brazil, Canada, China, France, Hong Kong, India, Japan, the Netherlands, Norway, South Africa and the United Kingdom.
Download a high-resolution file. For media use only.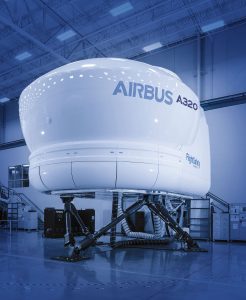 FlightSafety Airbus A320 Full Flight Simulator