FlightSafety International Awarded TH-57 Aircrew Training Services and C-17 Aircrew Training System Contracts
NEW YORK (August 24, 2018) – FlightSafety International has been awarded Bell TH-57 Aircrew Training Services and Boeing C-17 Aircrew Training System contracts.
"The TH-57 and C-17 contracts FlightSafety has received clearly demonstrate our ability and commitment to provide the highest quality products and training services," said Ray Johns, Executive Vice President. "All of us with FlightSafety are proud to be selected as the prime contractor for the TH-57 program and to be part of the Boeing C-17 team. We sincerely appreciate the support Frasca International and Aechelon Technology are providing for the TH-57 contract."
FlightSafety has been selected as the prime contractor for TH-57 Aircrew Training Services program. The flight training will be provided to the United States Navy, Marine Corps, Coast Guard as well as international students. FlightSafety will deliver instruction and Contractor Logistics Support and manage the replacement of the current training devices. The Level 6 and Level 7 Flight Training Devices, Image Generators, visual databases and projectors are scheduled to enter service in February 2019.
The C-17 Aircrew Training System contract was awarded to FlightSafety by Boeing to support the United States Air Force Air Mobility Command. The work will be performed at 15 U.S. Air Force locations and the Royal Australian Air Force base in Amberley, Australia. The contract includes program management, aircrew instruction, and courseware development as well as on-site support and upgrades for the training devices and visual systems. As the manufacturer of the C-17 Weapon Systems Trainers that are currently in service, FlightSafety will ensure that the upgrades and improvements to the aircraft are rapidly incorporated into the training program and systems.
FlightSafety currently supports other important government programs. They include the Boeing KC-46 Aircrew Training System; Training Systems and Contractor Logistics Support for the McDonnell Douglas KC-10; Kirtland, Davis-Monthan, Andrews, Moody (KDAM) Aircrew Training System; Northrop T-38 Talon Training System and Contractor Logistics support; Raytheon T-1 Jayhawk Contractor Logistics Support; Beechcraft T-6A Texan II Joint Primary Aircraft Training System and T-1A avionics modernization program.
FlightSafety International is the world's premier professional aviation training company and supplier of flight simulators, visual systems and displays to commercial, government and military organizations. Over 2,000 highly qualified instructors provide more than 1.4 million hours of training each year to pilots, technicians and other aviation professionals from 167 countries and independent territories. FlightSafety operates the world's largest fleet of advanced full-flight simulators at Learning Centers and training locations in the United States, Australia, Brazil, Canada, China, France, Hong Kong, India, Japan, the Netherlands, Norway, South Africa and the United Kingdom.
Download a high-resolution file. For media use only.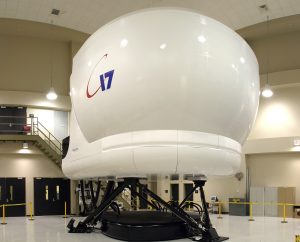 FlightSafety C-17-Weapon System Trainer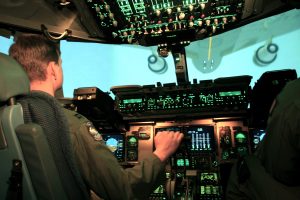 FlightSafety C-17