FlightSafety International extends E2 training partnership with Porter Airlines through 2029
Aviation leaders continue 15-year partnership for best-in-class pilot, engineer and cabin crew training.
COLUMBUS, OHIO (July 22, 2021) – Today, FlightSafety International, the premier professional aviation training company, announced it has extended its 15-year training partnership with Porter Airlines, the Canadian airline of choice for premium, short-haul flight travel experiences, through 2029. The news comes as Porter Airlines announces expansion plans to add 30 Embraer E195-E2 aircraft to its fleet, for which FlightSafety International will be the exclusive training provider along with the continuation of training for the DHC 8-400.
"We are thrilled to continue our long-standing partnership with Porter Airlines to train best-in-class aviators," said Brad Thress, President and CEO of FlightSafety International. "Since 2006, FlightSafety has been providing innovative and cost-effective training solutions to Porter crews. This proven track record is evidenced by the confidence that Porter has placed in us to deliver E2 solutions for another 8 years."
To prepare for the new training, FlightSafety International will be expanding its fleet of simulators at the company's Toronto Learning Center to include an E2 FFS in 2022 and an E2 FTD by 2024. The E2 FFS will be the first of its kind in North America. All simulators will be Level D Transport Canada and FAA Part 60 qualified.
About FlightSafety International
FlightSafety International is the world's premier professional aviation training company and supplier of flight simulators, visual systems and displays to commercial, government and military organizations. The company provides training for pilots, technicians and other aviation professionals from 167 countries and independent territories. FlightSafety operates the world's largest fleet of advanced full-flight simulators at Learning Centers and training locations in the United States, Australia, Brazil, Canada, China, France, Hong Kong, India, Japan, Norway, South Africa and the United Kingdom.
Download a high-resolution file. For media use only.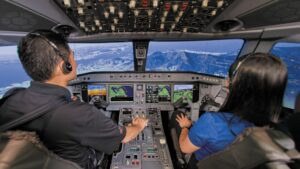 FlightSafety International Embraer E2 Simulator