FlightSafety International Names Hector Zarate Interim President of FlightSafety Services
NEW YORK (June 11, 2018) – FlightSafety International announces that Hector Zarate has been named interim President of FlightSafety Services Corporation. He replaces Ron Ladnier who will retire at the end of June.
"Hector has an in-depth understanding of government and military training requirements and the knowledge, experience, and leadership skills required to assume this important responsibility," said Ray Johns, Executive Vice President. "We thank Ron for his outstanding service and many significant contributions to our success. He has helped to further enhance the capabilities of FlightSafety Services by incorporating the latest technical advances in training and simulation into the products and services we offer. All of us with FlightSafety wish Ron all the best in retirement."
In his new role, Hector assumes responsibility for all FlightSafety Services Corporation operations, which provides turnkey aircrew training systems (ATS) and contractor logistics support (CLS) to Customers worldwide. This includes military aircrew training, advanced technology training devices, support for computer based workstations and support for simulators at 15 U.S. military bases. Programs include the KC-46 ATS, T38 CLS, KC-10 ATS, HC-130P and MV-22/V-22 Osprey CLS.
Hector joined FlightSafety as an Instructor and Maintenance Manager in 1986 and has held a number of positions with increasing responsibilities since then. They include serving as a Systems Engineer, Senior Systems Engineering Manager, C-5 Deputy Program Manager, and most recently as Program Manager for the KC-46.
He holds a Bachelor of Science degree in Electrical Engineering from the University of Delaware and an A.A.S in Computer Engineering from Delaware Technical College. Hector is a member of the Project Management Institute and The International Council of Systems Engineering.
FlightSafety International is the world's premier professional aviation training company and supplier of flight simulators, visual systems and displays to commercial, government and military organizations. The company provides more than 1.4 million hours of training each year to pilots, technicians and other aviation professionals from 167 countries and independent territories. FlightSafety operates the world's largest fleet of advanced full-flight simulators at Learning Centers and training locations in the United States, Australia, Brazil, Canada, China, France, Japan, the Netherlands, Norway, South Africa and the United Kingdom.
####
Download a high-resolution file. For media use only.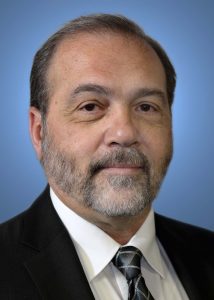 Hector Zarate Interim President, FlightSafety Services Corporation