FlightSafety International partners with Flight Research to offer in-aircraft upset recovery training
COLUMBUS, OHIO (May 3, 2021) – Today, FlightSafety International, the premier professional aviation training company, and Flight Research, an industry leader in advanced pilot training and human spaceflight training, announce the launch of their joint Upset Recovery Training. This offering aims to reduce loss of control in flight accidents by fusing FlightSafety International's unmatched type-specific simulator training with Flight Research's in-aircraft instruction.
This Upset Recovery Training will give pilots the opportunity to experience inflight upset with real gravitational forces, vestibular excitation and mental stress that can only be delivered in a plane; further building upon FlightSafety's simulation programs that replicate scenarios which cannot be safely accomplished in an aircraft, such as very low-level stall events. Using technology and the aircraft provides the most thorough training possible against loss of in-flight control, the single greatest cause of fatal aviation accidents for more than a decade.
"We share a mutual safety obsession with Flight Research, so working with them to develop this enhanced upset recovery training makes perfect sense," said Brad Thress, President and CEO of FlightSafety International. "This innovation to upset recovery training demonstrates FlightSafety International's commitment to providing the best in immersive training and preparing aviators who are capable and confident in every situation."
"As the leading provider of inflight upset recognition and recovery training we are very pleased to be partnering in joint upset recovery training with FlightSafety, the leading provider of simulator-based training," said Bill Korner CEO of Flight Research. "Because we share a strong commitment with FlightSafety for innovative and state of the art training which better prepares pilots and advances the safety of flight, this is a natural fit for us and demonstrates our continuing focus on training excellence for today's aviators."
For more information, visit flightsafety.com.
About FlightSafety International
FlightSafety International is the world's premier professional aviation training company and supplier of flight simulators, visual systems and displays to commercial, government and military organizations. The company provides training for pilots, technicians and other aviation professionals from 167 countries and independent territories. FlightSafety operates the world's largest fleet of advanced full-flight simulators at Learning Centers and training locations in the United States, Australia, Brazil, Canada, China, France, Hong Kong, India, Japan, Norway, South Africa and the United Kingdom.
About Flight Research, Inc.
Aerospace Professionals Since 1981 – Flight Research, Inc. is the leading provider of advanced pilot training, test pilot education, flight test services, and human spaceflight training to advance the safety and capability of the aerospace industry. With a fleet of more than 40 aircraft including supersonic jets, helicopters, turboprops, piston trainers and business jets, Flight Research, Inc. provides services to individuals, flight departments, governments, aircraft manufacturers, and Advanced Aircraft Mobility (AAM/UAM) pioneers. Flight Research is based at the Mojave Air and Space Port in Southern California.
Download a high-resolution file. For media use only.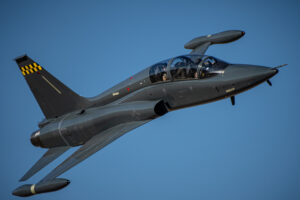 Image Credit: Charles Wickware