FlightSafety International Promotes Joe Warakomski to Chief Information Officer
NEW YORK (April 23, 2018) – FlightSafety is pleased to announce that Joe Warakomski has been promoted to CIO.
"Joe's leadership abilities and his significant contributions to FlightSafety's IT systems and processes over the past 13 years are most appreciated. The excellent support provided by our IT department is a key contributor to Customer satisfaction and critical to FlightSafety's success," said Bruce Whitman, Chairman, President & CEO.
Joe is responsible for all aspects of FlightSafety's Information Technology programs. He leads a team of professionals that respond quickly to the changing needs of FlightSafety's Customers and provide new and innovative solutions that further enhance the value they receive.
He joined FlightSafety in 2005 as Business Systems Security Manager. He was promoted to Director, Information Security in 2008 and Managing Director, Business Systems in 2012. Joe became Executive Director of Information Technology in 2014, and has served as Deputy CIO since 2016.
Prior to joining FlightSafety he was Co-founder and President of yNetworks. Joe previously held positions in information security, infrastructure, and software testing and development roles with Pilot Network Services, BlastNet Internet Services and Lucent Technologies.
Joe earned a Master of Business Administration from Rutgers Business School and a Bachelor of Science in Management Information Systems from the New Jersey Institute of Technology. He holds a private pilot license with an instrument rating certification.
FlightSafety International is the world's premier professional aviation training company and supplier of flight simulators, visual systems and displays to commercial, government and military organizations. The company provides more than 1.4 million hours of training each year to pilots, technicians and other aviation professionals from 167 countries and independent territories. FlightSafety operates the world's largest fleet of advanced full-flight simulators at Learning Centers and training locations in the United States, Australia, Brazil, Canada, China, France, Japan, the Netherlands, Norway, South Africa and the United Kingdom.
Download a high-resolution file. For media use only.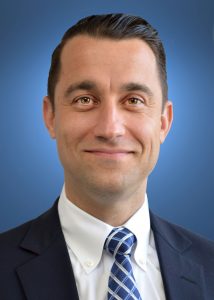 Joe Warakomski, FlightSafety CIO