Forbes Names FlightSafety International One of America's Best Mid-Size Employers
NEW YORK (May 1, 2018) –FlightSafety International announces that it has been named one of the best mid-size employers for 2018 by Forbes.
The Forbes list recognizes America's best 500 large employers and 500 mid-size employers across 25 different industries.
"Very pleased and proud that FlightSafety International has been named by Forbes as one of America's best mid-size employers," said Bruce Whitman Chairman, President & CEO.
"This important recognition is due in great part to our teamwork, respect for each other, open communication, and family atmosphere. We are committed to continue to attract and keep the very best people and to ensure FlightSafety remains as one of the top places to work in aviation. All of us with FlightSafety are fortunate to do what we like with people we like at this great company.
Teammates are FlightSafety's most important assets. They have an excellent work environment, comprehensive benefits, and innovative programs that encourage individual growth and provide opportunities for advancement.
The contributions of our Teammates, their commitment to excellence, and dedication to consistently provide the highest quality training services and products has enabled FlightSafety to become a world-leader in aviation training services and flight simulation products." added Bruce Whitman.
Statista, an online statistics provider, conducted a survey on behalf of Forbes of more than 30,000 employees who work in the United States. They were contacted anonymously and asked to share their opinions about their workplace and employer. Respondents were asked how likely they would be to recommend their employer, or another employer in their industry, to a potential employee. Willingness to recommend one's own employer was considered to be the most important aspect of the survey.
FlightSafety International is the world's premier professional aviation training company and supplier of flight simulators, visual systems and displays to commercial, government and military organizations. The company provides more than 1.4 million hours of training each year to pilots, technicians and other aviation professionals from 167 countries and independent territories. FlightSafety operates the world's largest fleet of advanced full-flight simulators at Learning Centers and training locations in the United States, Australia, Brazil, Canada, China, France, Japan, the Netherlands, Norway, South Africa and the United Kingdom.
Download a high-resolution file. For media use only.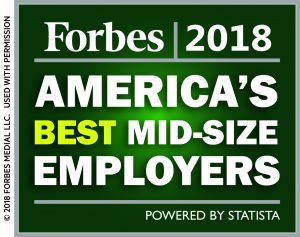 Forbes Best Mid-Size Employer