FlightSafety International Promotes Steve Hall to Director, Regulatory Affairs
NEW YORK (November 7, 2017) – FlightSafety International announces that Steve Hall has been promoted to Director, Regulatory Affairs.
"Steve has the experience, leadership abilities and skills required to further strengthen FlightSafety's position as a world leader in aviation training," said Daniel MacLellan Senior Vice President, Operations. "He will build upon our proven success and continue to ensure our Customers receive the highest quality training that is developed and delivered in accordance with regulatory agency requirements around the world."
He has overall responsibility for obtaining aviation regulatory agency approvals and to ensure they are implemented throughout FlightSafety's worldwide network of Learning Centers. This includes training programs for pilots, maintenance technicians and cabin crews who operate and support a wide variety of business, commercial, military and government aircraft.
Steve joined FlightSafety in 2014 as Assistant Director, Regulatory Affairs. His responsibilities included FAR Part 142 regulatory compliance, document approval, and the single certificate under which FlightSafety provides FAA training around the world.
He worked in the aviation training industry for 14 years prior to joining FlightSafety. Steve held a variety of positions including Head of FAR Part 61/142 Regulatory Affairs, Senior Manager of Regulatory Compliance, JAA Head of Training, Manager Advanced Programs, Instructor Development/Quality Assurance as well as a simulator and ground instructor. He previously served as a First Officer and Flight Engineer with American Airlines and as a Captain with Tradewinds Aviation.
Steve earned a Bachelor of Science degree in Flight Technology from Western Michigan University. He is a Certified Flight Instructor with multi-engine and instrument ratings, holds a Flight Engineer Turbo jet certificate, and is type rated in Boeing 757/767 and Cessna Citation CE-500 and CE-525S aircraft.
FlightSafety International is the world's premier professional aviation training company and supplier of flight simulators, visual systems and displays to commercial, government and military organizations. The company provides more than 1.4 million hours of training each year to pilots, technicians and other aviation professionals from 167 countries and independent territories. FlightSafety operates the world's largest fleet of advanced full-flight simulators at Learning Centers and training locations in the United States, Australia, Brazil, Canada, China, France, Japan, the Netherlands, Norway, South Africa and the United Kingdom.
Download a high-resolution file. For media use only.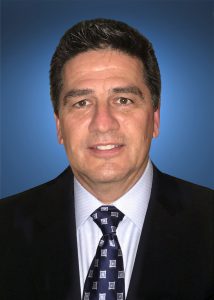 Steve Hall