FlightSafety's First Gulfstream G500 Full Flight Simulator Receives FAA Qualification
NEW YORK (January 23 , 2018) –FlightSafety International and Gulfstream announce that the first full flight simulator for the new Gulfstream G500™ aircraft has received interim Level C qualification from the United States Federal Aviation Administration.
"We are pleased to announce the FAA qualification of the first simulator for the new Gulfstream G500," said Bruce Whitman, Chairman President & CEO. "Our close working relationship with Gulfstream has resulted in full flight simulators and other advanced training devices that reflect the exact flying and operating characteristics of the aircraft. Operators around the world will benefit from comprehensive, technologically advanced training programs developed and delivered according to their specific needs."
"The certification of the G500 full flight simulator is a major step forward as we prepare for the G500 aircraft to enter service later this year," said Mark Burns, president, Gulfstream. "Throughout the G500 program, FlightSafety has been diligent in ensuring our customers have the training they need to accept delivery of their aircraft and quickly leverage its many capabilities."
A second simulator, which will be interchangeable between the Gulfstream G500 and Gulfstream G600™, will be qualified following aircraft certification. Pilot and maintenance technician training will then begin using both simulators at FlightSafety's Learning Center in Savannah, Georgia. FlightSafety and Gulfstream will determine the timing and location of additional domestic and international training sites according to Customer needs.
These are the first business jet simulators equipped with FlightSafety's CrewView collimated glass mirror display. CrewView provides far superior distortion-free optical performance with greater clarity, sharpness, and brightness. The glass technology provides a true spherical shape for exact geometry across the entire viewing area. The simulator also features FlightSafety's VITAL 1100 visual system. It significantly enhances training by providing highly detailed mission specific imagery with vastly improved scene content and exceptional environmental effects. Training benefits also include a whole-Earth environment and worldwide database that incorporates latest terrain information with geo-specific satellite images.
The Gulfstream G500 and G600 training programs will also feature new MATRIX integrated training system devices including advanced technology classroom workstations, Graphical Flight-deck simulators, and FAA Level 4 qualified Flight Training Devices.
FlightSafety has been the official factory authorized training organization for Gulfstream Aerospace Corporation for more than four decades. Training for the complete line of Gulfstream aircraft is delivered by FlightSafety's highly experienced and qualified instructors using close to 30 full flight simulators as well as other advanced training devices and equipment.
FlightSafety International is the world's premier professional aviation training company and supplier of flight simulators, visual systems and displays to commercial, government and military organizations. The company provides more than 1.4 million hours of training each year to pilots, technicians and other aviation professionals from 167 countries and independent territories. FlightSafety operates the world's largest fleet of advanced full-flight simulators at Learning Centers and training locations in the United States, Australia, Brazil, Canada, China, France, Japan, the Netherlands, Norway, South Africa and the United Kingdom.
Download a high-resolution file. For media use only.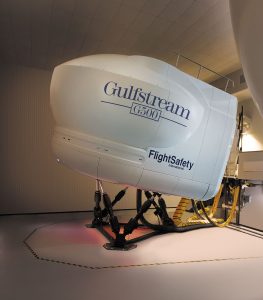 G500 Full Flight Simulator